The Holy Trinity Cemetery is sponsored by the Endowment for the Maintenance of the Elijah, Trinity and Johannes Cemeteries in Dresden. This endowment was founded in 1575 as the Johannes Church Treasury, and today continues its work as an independent agency dealing with churches' rights and duties.
The cemetery itself dates from the era of the Napoleonic Wars. In just a few days' time in 1813, 25,000 people lost their lives during the Battle of Dresden; many more died from Typhus in the following months. There were not enough burial grounds in the area to accommodate the thousands of fallen. In October of 1814, an empty plot on Blasewitzer Weg was purchased, and official court architect Friedrich Thormeyer was charged with planning a new cemetery. Aided by council architect Spieß, the unpretentious yet solemn graveyard was quickly completed, and retains its unique character to this day.
Many prominent Dresden personalities found their final resting place here, among them artists and scientist such as Carl Gustav Carus, Caspar David Friedrich, Axel Harnack and Trajan Rittershaus. Gottfried Semper and Ernst Rietschel designed many of its monuments. Today, the Holy Trinity cemetery serves several meaningful functions for the people of Dresden: as a memorial to our city's history, as a place of remembrance and reflection, and as hallowed ground for recuperation and catharsis. Above all, however, it is a place to come together. Tours of the cemetery are available, times and dates can be found on our website.
More information on the history of the cemetery and its surroundings you can find here.
Where you can find us:
Fiedler Straße 1, 01307 Dresden
(Handicapped accessible cemetery)
Phone: 0351-4593617
E-Mail: email hidden; JavaScript is required
Web: www.johannisfriedhof-dresden.de
Office Hours:
Monday, Tuesday, Thursday: 9:00 a.m. – 12:30 p.m., 1:00 p.m. – 3:30 p.m.
Friday: 9:00 a.m. – 12:30 p.m., 1:00 p.m. – 2:00 p.m.
Cemetery Hours:
December and January: 8:00 a.m. – 4:30 p.m.
February and November: 8:00 a.m. – 5:00 p.m.
March and October: 8:00 a.m. – 6:00 p.m.
April and September: 8:00 a.m. – 7:00 p.m.
May through August: 8:00 a.m. – 8:00 p.m.
Please contact:
Michael Jurich, Director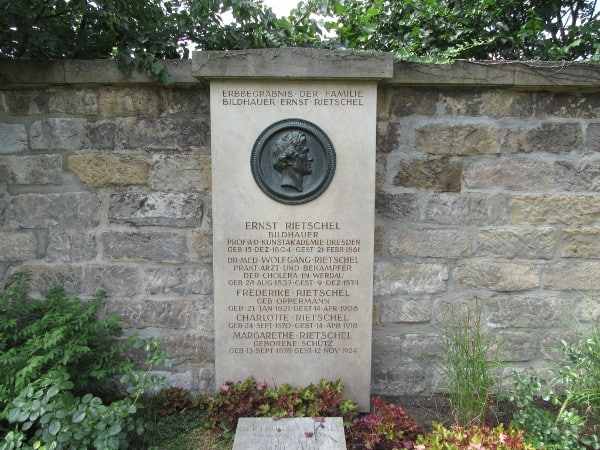 Text: Verwaltung des Elias-, Trinitatis- und Johannisfriedhofs Dresden